Pastor's Corner
19th March, 2023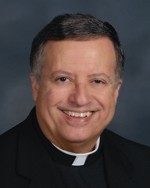 In today's First Reading Samuel recognizes the future king of Israel not by appearances but, as God wants, by what his heart displays. God calls us to become children of light, illuminated by faith and the transparency that the Lord offers us by loving our neighbors. The man born blind, in the Gospel of John and the subject of the second RCIA Scrutiny, experiences this same light as he finds complete healing in Jesus.
This wonderful passage also describes the consequences of his liberation: he doubts of the audience, the opposition of the Pharisees, and the profession of faith of the blind man, already healed. Let us reflect in small groups about our own blindness to those around us who need us the most.
In what ways can we avoid making judgements based upon the appearances of others?
In what ways can we come to know the true heart of those whom God has placed under our responsibility and care in our ministry?
Rev. Juan J. Sosa
Pastor