History
"Joseph, Son of David, do not fear to take Mary your wife, for that which is conceived in her is of the Holy Spirit; she will bear a son, and you shall call his name Jesus, for he will save his people from the sins"
(Mt 1:20-21)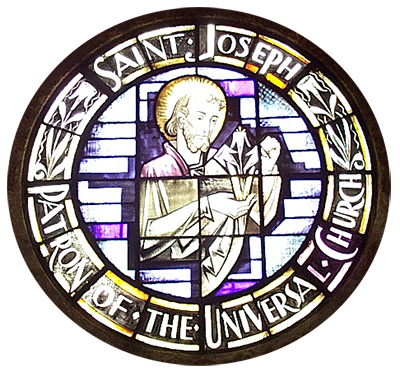 Nestas palavras, encontramos a essência da verdade bíblica sobre St. Joseph. If the Family of Nazareth is an example and model for human families, in the order of salvation and holiness, so to, by analogy, is Jesus' work at the side of Joseph the Carpenter. In our own day, the Church has emphasized this by instituting the liturgical memorial of St. Joseph the Worker on May 1.
Pope John XXIII, who had a great devotion to St. Joseph, directed that Joseph's name be inserted in the Roman Canon of the Mass, after the name of Mary and before the apostles and martyrs.
At a difficult time in the Church's history, Pope Pius IX, wishing to place her under the powerful patronage of the holy patriarch, Joseph, declared him "Patron of the Universal Church". Our prayers and the very person of Joseph have renewed significance for the Church in light of the Third Christian Millennium.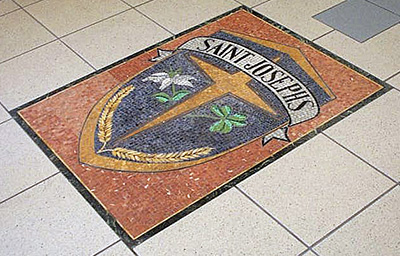 May St. Joseph obtain for the Church and for the world, as well as for each of us, the blessing of the Father, Son and Holy Spirit.
Given at Rome in St. Peter's, on August 15, the Solemnity of the Assumption of the Blessed Virgin Mary, in the year 1989, the eleventh of my Pontificate.
"Extract from the Apostolic Exhortation, 'Redemptoris Custos' of the Supreme Pontiff John Paul II, on the Person and Mission of Saint Joseph in the Life of Jesus Christ and of the Church."
Chronology of St. Joseph's Parish
1940-1950
1941
Monsignor William Barry, Pastor of St. Patrick's Church, announces plans to construct a mifssion church at the corner of 86th St. and Byron Avenue.
1942
Construction of St. Joseph's Church was completed. On February 1,1942 the first Mass was offered. This mission church was built by Monsignor Barry and dedicated to St. Joseph, Patron Saint of our Mother Church, by the Most Reverend Joseph P. Hurley, D.D. The patronage of St. Joseph's was made by a parishioner who had attributed his liberation from the Nazi concentration camp at Dachau in Germany, to the intercession of the Saint.
The first St. Joseph's Women's Club was started with 10 members. They held their meetings in the Rectory. Membership has increased throughout the years. The Women's Club today boasts over 100 members.
1947
On November 1, St. Joseph's becomes an independent parish and Monsignor George T. Rockett was appointed first pastor.
1948
St. Joseph's Rectory was built directly across the street from the Church. The Rectory is able to comfortably house three priests. It is equipped with dining facilities, a common room, office space, and includes a panoramic view of the Intracoastal Waterway.
1950-19650
1954
Despite heavy rain and blustery winds, more than 1,000 persons crowd into and around St. Joseph's Catholic Church on Sunday, February 28th, 1954, to hear Bishop Fulton J. Sheen at the 11 am Mass.
Parish purchases Poolside Manor Apartments to be used as a school.
The Women's Club adds a boutique to include hand-made items which are made on Wednesdays during the Club's Workshop.
1958
On September 8, St. Joseph's School opens for the first time. The school starts with 173 children. Kindergarten through Grade Six. There were six classrooms and a cafeteria and the school was administered by the Adrian Dominican Sisters.
On March 19th, an addition to the first church was completed and blessed on this, the Feast of St. Joseph. An additional 256 seats are provided in the church as well as new marble altars and marble wainscoting. The facade is enlarged and the structure air-conditioned.
1959
On April 15, Bishop Coleman Carroll blesses St. Joseph's School.
1960-1970
1960
The Women's and Mothers Clubs of St. Joseph's holds a joint "Day Around Miami Beach" Gala luncheon and fashion show on February 1, at the Fontainebleau Hotel. Proceeds are donated to the library fund at the school.
A library is added to St. Joseph's school.
1962
A new, fully equipped, art room is added to St. Joseph's School. "Artistic talents of the students can be encouraged and developed here", said Sister Colette, Principal of St. Joseph's. Students are taught by five sisters of the St. Dominic Order of Preachers and six lay teachers.
1968
After 21 years of service as pastor in St. Joseph's parish, Monsignor Rockett is named pastor emeritus in 1968 and Monsignor Joseph O'Shea is appointed as the second pastor of St. Joseph's Parish.
1970-1980
1970
St. Joseph's Kindergarten class was closed.
1972
The C.C.D. program of religious education for public school children is started.
1975
Under the direction of Monsignor Joseph O'Shea, a multi-purpose center complete with professional stages and lighting is completed in November. The building, designed by Miami architect, Murray Blair Wright was completed at a cost of $ 360,000. Dedication ceremony includes a mid-December parish dinner and an appearance by film star Gordon MacRae. Other events include the Broadway musical "Guys and Dolls" staged by Monsignor Pace High School Drama Club.
On Wednesday, February 11, Sid Caesar and Kathryn Grayson perform between 9 and 10:30 pm at the new multi-purpose center. Dancing precedes and follows the show.
In September, Mrs. Shirley Bara was appointed Principal to St. Joseph's School.
1976
Reverend Noel Bennett is appointed as the third pastor of St. Joseph's Church. Msgr. O'Shea is later assigned to build Our Lady of Lourdes Parish, Boca Raton, where he stays on as Pastor.
1979
The Dominican Sisters left St. Joseph's since most had reached retirement age.
1980-1990
1980
Construction of the Rosary Chapel began. The Theatine Sisters joined St. Joseph's School.
1981
On January 23, St. Joseph's School is accredited for the first time by the Catholic Conference of Florida and the State of Florida.
The Rosary Chapel was completed in August and subsequently dedicated to our Lady of the Holy Rosary by Archbishop Edward A. McCarthy on the Feast of the Holy Rosary, October 7.
1983
Miss Rita Grannen joins the staff of St. Joseph's School as Principal.
1984
St. Joseph's Parish provided the land for the construction of Stella Maris House, an elderly living facility.
Construction of Stella Maris residence is initiated. Inspiration for this facility was made by Mr. Michael Stanco, longtime parishioner. This facility will house elderly population of our parish. In September, St. Joseph's Kindergarten class was re-instated.
1985
Stella Maris was opened on July 15.
A troupe of professional Filipino (Maranaw) models presented an extravaganza of fashion, music, and dancing at St. Joseph's Parish Hall. The group, which has performed in Italy and France, traced the different styles of cultural dress back to the early history of Filipino society up to the present day. The presentation was showcased with music, lights and special effects. They were brought to St. Joseph's through the auspices of parishioner, Rhodora Pelobello.
1987
Work is begun on a new school building. This structure will house four new classrooms, grades five through eight, and bathroom facilities. A computer lab is installed and equipped with IBM equipment. Each of the new classrooms has a capacity of 35 students and is equipped with a television and videocassette recorder.
On September 11, His Holiness Pope John Paul II comes to Miami on a pastoral visit. St. Joseph's Pastor, Noel Bennett, coordinates transportation to the concelebrated outdoor Mass offered at Florida International University, Tamiami Park.
1988
In October, the first pilgrimage to Medjugorje, Yugoslavia originated from St. Joseph's Parish, with 19 pilgrims.
In July, an addition to St. Joseph's School was completed. This building now houses grades five through eight and provides room for a well-equipped computer lab and Pre-Kindergarten at the old school.
1990-2000
1990
In October, the second pilgrimage to Medjugorje, Yugoslavia was attended by 53 St. Joseph's pilgrims.
1991
Fundraiser is started for the expansion of the new building at St. Joseph's School.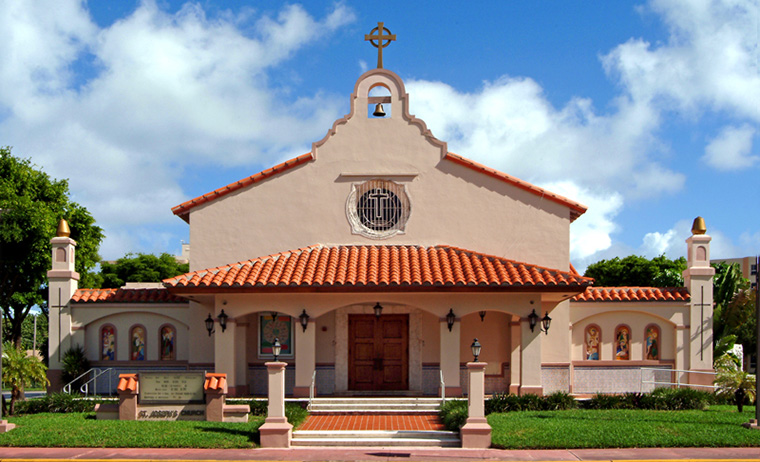 1992
Fr. Arnaldo Bazán replaces Fr. Sergio García-Miró to minister to the needs of the Hispanic community. Fr. Sergio is sent to St. Catherine of Siena while applying his medical skills in service to the Archdiocese of Miami.
On March 18th, Archbishop Edward A. McCarthy is the presider at a concelebrated Mass commemorating the 50th Anniversary of the first Mass at St. Joseph's. "50 Years of Growing and Sharing the Faith."
On March 28th, and as part of the Jubilee celebrations, a Gala Dinner Dance is held at the Doral Hotel.
1994
In July, Fr. Luis Casabón replaces Fr. Bazán who continues his priestly ministry by dividing his time between Little Flower Church in Coral Gables, and the Dominican Republic.
Construction begins on a three-story state-of-the-art school. The Don and Mary Anne Shula Tower houses a music room and an ultra-modern computer lab, as well as spacious offices.
1995
Students returning from Christmas vacation are delighted to find their new school completed.
The new School is blessed and dedicated by Archbishop John C. Favalora on March 20th. The generosity of many parishioners including, but not limited to, the Shula's, Grace Clayton, James Skakel, Happy Downey and James and Irma Baker Lyons, made this new School possible. A sumptuous dinner was hosted by Don and Mary Anne Shula in their waterfront home. The celebrations continued in the Parish Hall following the blessing of the School.
1996
Fr. Oscar Sarmiento arrives in December to minister to the ever-growing Hispanic Community as Fr. Casabón is transferred to San Lazaro Parish in Hialeah.
2000-2010
2000
To accommodate the sizable Brazilian community in the North Beach area, Nuestra Senhora de Aparecida Apostolate begins celebrating Mass in Portuguese every Saturday.
2001
On November 9th, the Parish gather to celebrate Fr. Noel Bennett's twenty-five years as Pastor of St. Joseph Parish.
2003
Fr. Oscar Sarmiento is assigned to St. Edward Church in Pembroke Pines, to meet the growing need for a Spanish speaking priest in that parish.
After 27 years as Pastor, Fr. Noel Bennett retires on June 30th, but remains in residence for an additional two years.
Fr. Enrique Estrada becomes the fourth Pastor of St. Joseph's. During the successive years, the Hispanic community continues to grow as many people from central and South America and the Caribbean join our Parish Family, and the Society of St. Vincent de Paul begins to serve the needs of the poor of our area on Saturday mornings from our Parish Hall.
2010
In June 2010, our school closed and Mater Beach Academy opened. Fr. Enrique Estrada is reassigned to St. John Neumann parish by newly installed Archbishop Wenski, who names Fr. Juan J. Sosa our fifth Pastor. Fr. Sosa came to us with an extensive background in Liturgy and Worship.
Today many ministries are represented at St. Joseph's, including Social Action and Pastoral Groups, Retreats, Scripture Study, various workshops and festivals take place regularly.